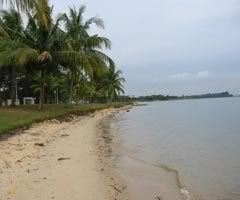 Water quality review of beaches finds Pasir Ris beach not safe for swimming
SINGAPORE: The National Environment Agency (NEA) has completed its annual water quality review of Singapore's six recreational beaches.
The water quality at all the beaches attained a "good" rating except Pasir Ris beach, which is still deemed unsafe for swimming, the same as last year.
The water at Pasir Ris beach may look clean but it is actually teeming with a bacteria found in human faeces.
Significant amounts of the enterococcus bacteria were present in eight per cent of 1,364 water samples collected in the water quality review. They had enterococcus counts of more than 200 per 100 ml.
Based on the World Health Organisation's water guidelines for recreational use, only beaches with not more than 5 per cent of the collected water samples having enterococcus counts of greater than 200 per 100 ml and graded "good" or "very good" are suitable for activities such as swimming, water-skiing and wakeboarding.
Although there has been no deterioration in the water quality at Pasir Ris beach, it is still graded as "fair" since the 8 per cent exceeded WHO's guidelines of not more than 5 per cent of collected water samples having enterococcus counts greater than 200 per 100 ml.
So NEA is continuing to advise the public not to swim, wakeboard or waterski in the water at Pasir Ris beach. However, people still go into the water, despite nine advisory signages put up at the beach.
Said one teen: "I think the sign is not obvious. I feel that its location is wrong. They should have a bigger sign so the public can be alerted to it."
And water sport activities will still continue as per normal on weekends.
Serene Giam, assistant manger, Training & Operation, People's Association Water-Venture, said: "We'll remind participants during their breaks or even after their activities to rinse themselves with clean water over here at the outlet."
NEA said the water quality is affected by several factors, including minor leaks from older sewers and discharges from small-scale sewage treatment plants and low water currents in parts of Pasir Ris beach are not effective in diluting and dispersing discharges.
By 2012, these plants will be phased out under an ongoing plan by PUB and the sewer network will be extended. PUB aims to mend 23 kilometres of aging sewers in the area by 2011. - CNA/vm/al
Credits By: http://www.channelnewsasia.com/stories/singaporelocalnews/view/1000798/1/.html