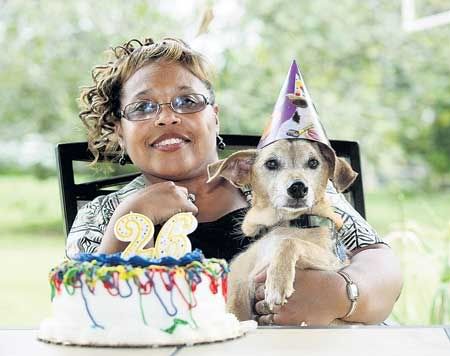 By Jon Kaila 11/08/2009
Max the terrier-cross is believed to be the world's oldest dog after reaching the grand age of 26 - equivalent to 182 in human years.
And he's looking pretty good for his years, with just a few grey hairs and a bit of mild arthritis. Max has vet papers to prove he was born in 1983 and owners Janelle and Billy Derouen are now awaiting recognition from Guinness World Records.
Janelle, 49, puts Max's longevity down to a lack of pampering. She said: "I never spoiled Max. He gets a few treats like beefy doggy bones.
"But we don't give him any food from our table."
Janelle and Billy, from New Iberia, near New Orleans, bought Max as a pup from a local sugar cane farmer.
Until recently it was believed Chanel, a daschundcross from New York was the oldest living dog.
But it was then discovered Chanel, who is riddled with health problems, is five years younger that Max.
Janelle, who gave Max a birthday party on Sunday, says his secret is taking life easy. She added: "He's very laid back. He likes to relax and keep life simple."
Credit By: http://www.mirror.co.uk/news/top-stories/2009/08/11/happy-182nd-you-old-dog-115875-21588561/
OS: wow, he sure has a pretty long life spend.. how did the owner took so good care of Max..?? cool..